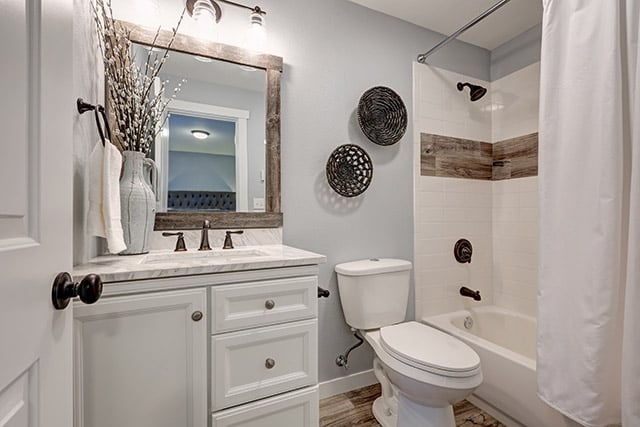 The bathroom of your dreams isn't out of reach – or out of your budget. There are ways to create the bathroom you've always imagined while saving money.
Spend Money on What Matters
Instead of purchasing that expensive mirror you've been eyeing, splurge on glass shower doors or a claw foot bathtub. Expensive doors will last longer and will create a luxury feel to your bathroom.
Pop of Color
You don't have to completely change the flooring of your bathroom to add a different feel and texture to it! Try a fun, colorful rug! You can even pair it with a tiled or textured floor to add even more layers to your bathroom.
Display Toiletries
An interior decorator says storing toiletries better can even spruce-up your bathroom – especially if you're working with minimal space. Place cotton balls and Q-tips in matching jars or roll towels and place them in a nice, metal basket.
Embrace What You've Got
Are you working with an older bathroom? Instead of completely renovating the appliances, make it work with your style! Add some of your own, favorite artwork and a shower curtain that matches your vibe.
Forget about wallpaper
Paint a statement piece on your wall instead! A one-of-a-kind painting will make your bathroom standout. Whether it's a flower or your favorite quote, this small update will enhance your bathroom on a budget.
Designing your bathroom may be easy for you, but what about repairing your toilet or sink? That's where Michael's Plumbing steps in. We'll help maintain your bathroom while making sure everything is working properly. If you need service, schedule an appointment today!