Posts Tagged 'chemical drain cleaner'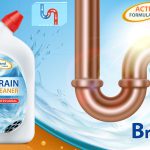 When faced with a slow drain or clogged kitchen sink reaching for a chemical drain cleaner may seem like the quickest and easiest solution. Be aware of the hazards associated with these types of cleaners.
Read More
DIY projects can be fun and save money, but when it comes to your home's plumbing, a failed project can be very costly. Avoid these mistakes when doing a DIY plumbing project, or it may cost you a lot more in money (and time) than if you had just called a professional to do the job in the first place.
Read More