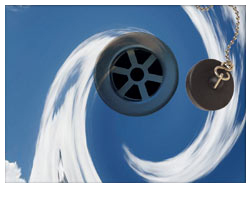 Hurricane season has started, and before the next big storm hits, make sure your home's plumbing is up for the challenge. Here are some tips to ensure you are prepared for whatever Mother Nature throws at us this hurricane season.
Clear Debris from Drains
Make sure the gutters and culverts near your home are free of debris. These are the areas that have to handle the heavy rain downpours from a hurricane. Clearing debris keeps these areas from backing up with excess rain and causing stress on underground pipes.
Locate and Shut Off Your Water
Determine ahead of time where the main water shut-off valve is located in your home. Shutting off your water valve prevents contaminated water from entering your home's supply.  Make sure to open a faucet, preferably the one that is furthest away from the mainline, so that air can enter your system.
Turn Off Your Water Heater
Reduce the amount of pressure on your plumbing system by shutting off the gas or electric power source that fuels your water heater.
After the storm…
Once you have the go-ahead from your utility company, turn the water back at the main valve. Run your faucets and showers, checking to make sure the water runs okay.  Some air may escape resulting in sputtering but should stop fairly quickly.
Check around your property looking for uprooted trees that could have damaged plumbing pipes.  If you see any damage, call a plumber.  Do Not try to fix these issues on your own.