Posts Tagged 'water softener'
Have you ever wondered what makes water "hard" or "soft"? We explore the terms and take a look at how soft water can extend your appliances' life span and keep you feeling better.
Read More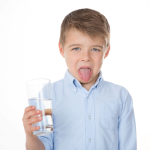 Nothing is worse than expecting a refreshing drink of water, only to have it taste as salty as the ocean. Gross!
Read More